Houses
Churchill
"The price of greatness is responsibility."
Sir Winston Churchill was the Prime Minister of the United Kingdom throughout the most challenging period of British History. He is best known for his dedication and commitment to the war effort during the second world war. In this time as Prime Minister he showed a determined effort to stand up for what is right. He was committed to achieving a positive goal and made great sacrifices to make the world a better place. He was not afraid to stand up for what he believed and to support those who were facing significant challenges.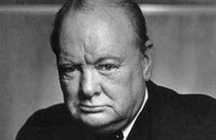 The Churchill staff team at North Cambridge Academy is made up of:
House Leaders:
Nikki Smith
Mick Kelly
Joshua Harris
Form Tutors:
Charlotte Daymond – Cda
Natasha Dhari – NDh
John Tregear – JTr
Louise Vacca – Lva
Lorna Weeden – LWe
Churchill House includes staff representing Science and physical education. Together we aim to let the young people of the house know that continuous effort is the key to unlocking our potential.  Churchill staff have consistently high standards for themselves and their students. We guide and support our students to make valuable contributions to their Form, the House and the Academy. Through positive working relationships we aim to inspire all pupils to be brave enough to aim high and work hard to achieve their goals.
Churchill has generally made an excellent start to this year and had a very positive performance in the recent House Dancing competition. Mr Tregear's won the performance with an exceptional dance from the whole form that was seen as being modern and stylish.  We currently lead the House VIVOs competition and are needing a big push on attendance to take the lead on attendance.
We have four different forms in the House and we enjoy competing against one another and against the other houses. This term we have been working together in our Challenge to create posters and creative written work that highlights the impact and issues around bullying.  We look forward to the random act of kindness week that this will lead in to. We are also looking forward to the end of term reward trips and celebration events, which will be taking place in the coming weeks. At the end of December, the rewards trip went on an ice skating trip and we are hopeful that our house will be well represented on the next trip.